Now all our apartments have unlimited Internet WI-FI
Hotels
Year by year Kharkov becomes more and more beautiful. Historical buildings are renovated; New Kharkov hotels and restaurants have been opened for the last few years. New parks, swimming-pools, casinos and bars give tourists everything they need to have good time in Kharkov. Prices are rising every year, as Ukrainian economy is getting stronger and stronger, but anyway Kharkov offers something special for tourists with any budget. We'll be happy to help you with choosing the right Kharkov hotel for your needs and budget.
Please, review our propositions & make your Kharkov hotel reservation today!
Cosmopolit**** Art-hotel
European style hotel of "Premier Hotels" network. This Kharkov hotel is located at the park zone on Akademika Proscury street next to a modern business center and Italian restaurant "Da Vinci". At your service there is a conference service, comfort rest and full confidentiality. Rooms have phone, wireless Internet, LCD TV, mini bar, safe, an air-conditioning and climate control. Number one choice for business people.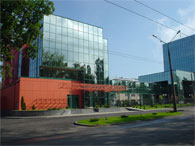 fax: +38057754 68 86
http://www.cosmopolit-hotel.com
Hotel Kharkov****
Recently renovated hotel right in the city center on Svobody Square at the heart of the Kharkov business and culture life. Hotel Kharkov offers single, double, Junior Suites and Semi-Suites. All rooms are equipped with direct telephone line, Internet access, Satellite TV and Air-conditioner. Restaurant and bars/cafes of Kharkov hotel propose you legendary dishes of Ukrainian and European cuisine. And at the end of a long day Kharkov traveler can relax in hotel Sauna or swimming pool, order sanitary massage, play pool or try your luck in Kharkov hotel Casino.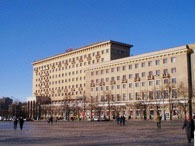 +38057-7580-153
+38057-7580-024
Fax: +38057-7580-657
http://www.hotel.kharkov.com
Hotel National***
Located on Lenina Ave. just 10-min walk to Kharkov city center, Liberty Square and Shevchenko park. Kharkov Hotel "National" (Intourist) offers services of 139 guest rooms, restaurant, cafe, currency exchange center and secure parking. Each room has a private bathroom, phone and cable TV.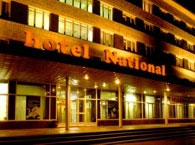 +38(057)349-53-85
+38(057)702-16-24
http://www.national.kharkiv.com
Hotel Kievskaya**+
Old Soviet hotel for Communist party members. Perfect location - intersection of Cultury Street and the main street of Kharkov downtown - Sumskaya. Kharkov Hotel "Kievskaya" offers services of restaurant, conference hall, currency exchange, solarium, sauna, gym, massage & billiards. All rooms have phone, cable TV, fridge and other amenities.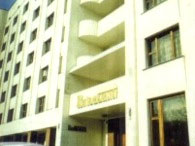 Hotel Myr**
Economy Hotel "Myr" is located at one of the central streets of Kharkov - Lenina Avenue. About 3 km (3 subway stations) from Kharkov city center. Hotel offers services of several cafes, bars, night club "Golden Lion" and rehabilitation center which includes Russian and Finnic baths with the medicinal massage, autonomous running water, car-parking. All rooms have secure locks, phone and Internet access, Cable TV, fridge, mini-bar and a private bathroom.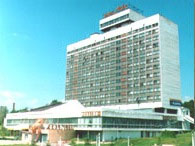 +38(057)340-22-17
+38(057)340-44-78
+38(057)720-55-43
http://www.hotel-mir.com.ua